Some Fine Clarets as Frank Rodriguez
Meets The Gang of Pour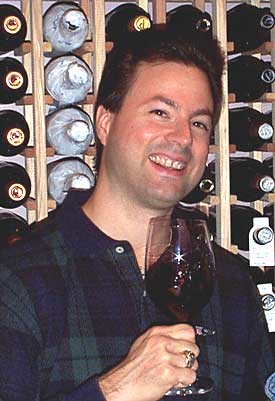 FRANK RODRIGUEZ
WCWN regular Frank Rodriguez announced a few weeks ago that he'd be in Dee-troit on November 30th to do a little business (he's in the asphalt industry), and would anybody care to get together and sample a few wines. Well, of course The Gang of Pour raised their virtual hands right away, and before you could say NUNQUAM SPUEMUS, we had a plan. Mark and Teresa Overberg had to stay close to home, since it was a school night, so they graciously opened Chateau Doughnut to act as the scene of the crime. (Unfortunately, Mark and Laurie Smith were unable to attend for the same reason.)

We arrived at 7 PM, to find Frank, Mark, Teresa and a bottle of '96 Cloudy Bay Sauvignon Blanc waiting for us, and with that, we were on our way. Here's a rundown on what we drank, but we'll refrain from mentioning who we ran down in our lively conversation over the next four hours...

1996 Cloudy Bay Sauvignon Blanc Marlborough : This pale straw has fared well in Mark's cellar over the past few years, as it's youthful searing acidity has softened substantially, though it's still plenty lively. The soft grapefruit nose is rather closed at first, but it opens in the glass to reveal the signature grapefruit/wet stone with just a hint of herb and a blade or two of grass that makes it so appealing as it mellows and matures. The flavors follow through more forcefully, with a faint hint of cream and a long lovely finish. This beauty's still rockin' in the free world!

1996 Karl Lawrence Napa Cabernet Sauvignon (13.6 % alc.): Frank brought this along, and we were glad he did, because it's drop dead gorgeous. Dark garnet in color, it has a beautiful sweet oak/cassis/red licorice/cloves/nutmeg bouquet that carries through in the flavors seductively, where it gains hints of maple syrup/cola/cedar as it breathes, and a note of olive with the last few sips. Remarkably soft for so young a Cabernet, my only complaint initially was that it could finish a little longer, but then it did as we practiced our swirlatude. The fruit that went into this comes from the Morosoli Vineyard (2/3) and the Herb Lamb Vineyard. This will probably improve with some cellaring, but who has the patience to wait? Yumm!!!

1997 Ravenswood Sonoma Valley Cabernet Sauvignon Gregory Vineyard (13.9 % alc.): Mark and Frank both remarked separately, "This wine is BLACK!" And indeed, it's an inky dark garnet, which was only a prelude to what followed; big, brawny and tannic, this is one seriously concentrated wine, with none of the refined elegance of the Lawrence at this point. The flavors and aromas show tons of black currant/black berry and a hint of black olives and herb. Frank said, "Now I know what they mean by drying tannins," and he had a point; this is a saliva sucker, to be sure. It's just a baby right now, but boy, what potential!

1996 Hedges Red Mountain Reserve Columbia Valley Red Wine (13 % alc.): Kim tried this dark garnet claret an hour before we did, and said that it evolved from pine tar to black currant/cassis on the nose; Mark got some toast. It turns sweet on the palate, with a medium full bodied frame, and a nice finish. Just a lovely wine, and a bargain at $22.99 (it had just come into the store that day), this more than held its own against the more pricey selections on this occasion. Jason Brandt Lewis has been extolling the virtues of this producer's wares for the past few years now, and he's spot on, if this is any indication.

It was now time for dinner, so we sat down to Teresa's terrific standing rib roast, with sautéed Brussels sprouts and Kim's stuffed mushroom caps and boiled baby red potatoes drizzled with truffle oil. (Poor little Munchkin Doughnut Gabrielle wrinkled her nose and scowled, saying the spuds "taste like dirt." Kim was crestfallen...)

1982 Chateau Latour Figeac Saint-Emilion Grand Cru Classe (13 % alc.): This ruby dark garnet is only just showing a bit of rust, and it exhibits lovely smoky cassis/leather/cigarbox/cola flavors and aromas. It's fully mature, silky smooth and beautiful; the tannins are resolved, and yet there are no secondary elements to it, just pure fruit. If you have any of this, now is the time to drink it. We made a point of toasting Mark and Laurie Smith whilst enjoying this. The Wine of the Night, in the humble opinion of Kim and this taster. Others may have agreed, but we're not sure...

After that, BD had the temerity to open yet another wine, a 1991 Groth Napa Cabernet Sauvignon, but by now we were so engaged in lively conversation that I put my pen down and just enjoyed myself. Frank is a great guy, witty, intelligent and gregarious. It's a shame that Houston is so far from Day-twah, or else we'd be getting together with him on a regular basis. And as always, Mark and Teresa were most gracious in opening their home to us yet again, especially on a Tuesday night.

Just another wonderful tasting with our friends from the internet wine community!