"5:00 PM works for me but please, please be on time. My bocci ball team plays the late game and they really need me in this one."
Michael Weis
WINES TASTED:

Saddleback
1997 Saddleback Pinot Blanc
1997 Saddleback Chardonnay
1995 Venge Sangiovese Penny Lane Vyd
1996 Venge Sangiovese Penny Lane Vyd
1993 Saddleback Cabernet
1994 Saddleback Cabernet
1995 Saddleback Cabernet
1994 Venge Cabernet Venge Family Res.
1985 Saddleback Cabernet Reserve
1995 Saddleback Zinfandel
1996 Saddleback Zinfandel
1997 Saddleback Zinfandel Late Harvest Barrel Sample
1996 Saddleback Sauvignon Vert
Whitehall Lane
1992 Whitehall Lane Cabernet Reserve
1993 Whitehall Lane Cabernet Reserve
1995 Whitehall Lane Merlot Leonardini Reserve
1991 Whitehall Lane Cabernet Morisoli Reserve
1992 Whitehall Lane Cabernet Morisoli Reserve
1993 Whitehall Lane Cabernet Morisoli Reserve
1994 Whitehall Lane Cabernet Morisoli Reserve
1995 Whitehall Lane Cabernet Morisoli Reserve
1996 Whitehall Lane Cabernet Morisoli Reserve B/S

Neibaum-Coppola
1994 Neibaum-Coppola Rubicon
Groth
1988 Groth Cabernet Estate
1988 Groth Cabernet Reserve
1990 Groth Cabernet Reserve
1991 Groth Cabernet Reserve
1992 Groth Cabernet Reserve
1994 Groth Cabernet Reserve
1995 Groth Cabernet Estate
1996 Groth Cabernet Block #1 B/S
1996 Groth Merlot B/S

Up bright and early, we were met with a most glorious blue sky and sunshine. Keep in mind that the weather here in Northern California had been most unseasonable – cool, gray, and wet – and most growers were concerned that the growing season was being delayed: from 2-3 weeks on the valley floors, to almost 6 weeks in the hills. Today, finally, it looked and felt like June.
We boarded our bus, and met Keith – our intrepid driver. We would get a lot of mileage out of his careful driving and bad jokes in the next several days. North from Santa Rosa, we headed east across Mark West Springs to Calistoga, then south on 29 to Oakville.
We arrived on time at Saddleback – another working winery – no signage - park on the crush pad. Mary Pisor greeted us, since Nils was preoccupied dealing with a leaky barrel, and started us off with Pinot Blanc and Chardonnay.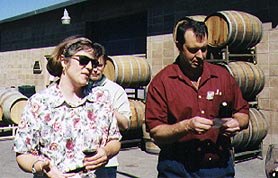 Mary Pisor – Assistant Winemaker and a great gal !
I like Nils Venge – he's a "what you see is what you get" kind of guy. He's essentially a farmer ( I mean that most respectfully ), and not at all the celebrity winemaker (even though he certainly has the credentials – he has created legendary cabs at Villa Mt. Eden and Groth). Obviously perturbed by the unruly barrel, he took the time to greet us, then joined us for a glass of his wine, and then another. Soon, we were talking wines and vines, laughing and wheezing, enjoying the day and each other. We tasted through all his current releases – even the Reserve cabernet – then into the barrel room for samples and some special treats. Back outside for a couple of dessert wines ( be on the lookout for the 97 late harvest Zin !!), and we reluctantly had to be on our way. Handshakes and hugs all around; we invited them to join us for dinner, and we took our leave.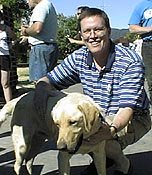 Vin Pays Doc with Toby – Saddleback's Hospitality Director (photo courtesy of Greg Ellis)
This first stop was like a tonic to this group. A warm summer day, gracious hosts, excellent wines, great conversation – these were the reasons we were here – we were cheered, heartened, and invigorated. We could not be off to a better start – as Dave J. put it: "Shoot me now!"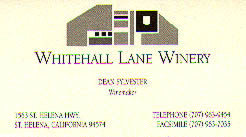 We motored up 29 a few miles to Whitehall Lane, and were greeted by Tom Leonardini Jr. and their new winemaker, Dean Sylvester. They tasted us through an entertaining array of their current releases and a vertical of Reserves. They also answered some candid questions about the departure of Gary Galleron, their former winemaker, and Dean's background and winemaking philosophy. It was clear from our tasting that the Morrisoli Vineyard is a very special property. I am familiar with the Zinfandels Elyse makes from their fruit, but this was my first opportunity to sample other varietals. The mood here was far more restrained than at our first stop of the day. I actually don't remember seeing Tom smile until we were taking the group photos just before we left. Perhaps it was a result of the assault on his Dad, perhaps it was just their nature – wineries, like people, have their own distinctive personalities. These folks were not unpleasant at all – just a little tight.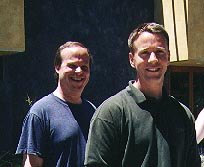 Dean Sylvester and Tom Leonardini Jr.
We said our good-byes, and crashed Neibaum-Coppola for a picnic lunch.
Well – it was a gentle crash. I just don't think they encourage groups of twenty to use their picnic area and drink wines from competitors. On a knoll just above and south of the main winery building is a small picnic area, complete with fountain, and shaded by grand old eucalyptus trees. It commands a 360-degree view of the valley, and is an absolutely lovely spot. These folks have done a great job with the buildings and grounds, although the wines are not terribly impressive. (I must say that the 94 Rubicon didn't suck.)
Then back to the hotel for a brief rest, shower, change of clothes – and back to Napa for the evening's events. First stop – Groth.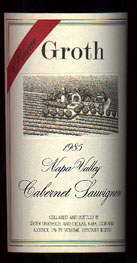 Michael Weis is a soft-spoken man, which belies the passion he feels for his work and his wines. He is also passionate about bocci ball – a sport that seems to be capturing the imagination of staff members at several wineries. He was happy to host our tasting as long as we could finish in time for him to make his game.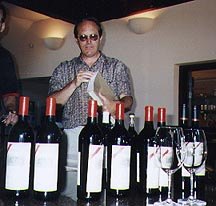 Michael Weis
We first were given an overview of the estate, focusing on the blocks of Cabernet visible from the balcony of the tasting room – some of the most prized acreage in the Napa Valley. Michael was quite frank in discussing the green olive and herbaceous characteristics for which his cabs are sometimes faulted. Through replanting (some made necessary by Phylloxera ) and new techniques in trellising and canopy management, he hopes to minimize those influences in aroma and flavor.
Frankly, I was not terribly impressed with the wines. Admittedly, I'm not a big Cabernet fan, but for the price these folks ask for their Reserve, I was expecting a little more. The 91 was my favorite – a beautiful wine with great balance – and the 94 shows promise. I believe, though, that consistency is what raises a winery above the crowd, and this flight of wines fell a little short.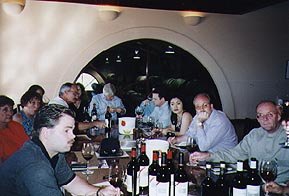 The tasting room at Groth
Also tasted was a special lot of Merlot made for the Napa Valley Auction, aged in 100% new oak, and my nominee for the Woodchuck Award of the Day.
Michael was a very gracious and patient host, and after the obligatory group photos, we thanked him profusely and headed north for dinner.